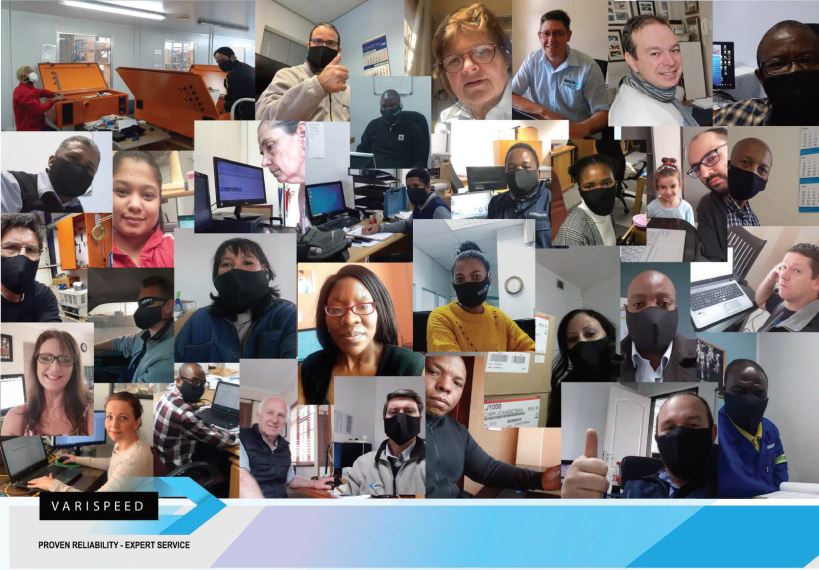 Tough times don't last, tough people do
When I first wrote to you at the beginning of the year, we were positive about the upward trend projected for the manufacturing sector and had high hopes for what was to come. Despite the unexpected and unprecedented twists and turns, I still feel much the same way.
In tough times, the resilient, courageous, and optimistic natures of South Africans cannot be underestimated. We have supported one another through the tough times and three months into lockdown, we now work together to re-accelerate the economy. Our fighting spirits keep us going and we will make a success of 2020, regardless of what comes our way.
During this time, I want to thank our President, his cabinet, and all our frontline fighters for their ongoing support and determination. We at Varispeed are proudly South African and our fight against Covid-19 has once again solidified this.
To our staff who have been hard at work since level 4 and are dedicated to handling every order and enquiry with meticulous care, we value you. To our customers, thank you, we would not be here without you. While much remains to be seen, we can achieve success by working together. We are fighting fit and ready to tackle what remains of 2020. Wishing you all the best for the mid-year and we hope that you will enjoy our latest newsletter.

We will be profiling some of our team members in each newsletter edition.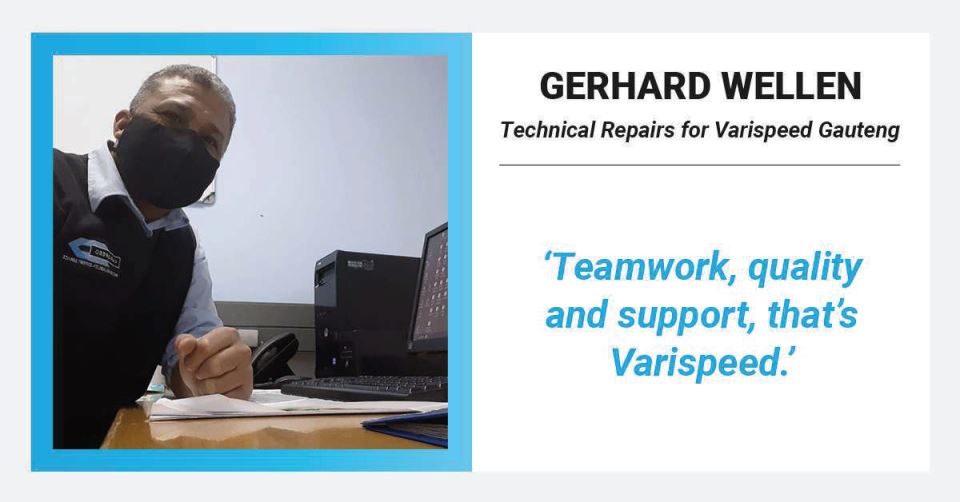 Forming an integral part of our service team, many of you will already know Gerhard Wellen.
Gerhard says that Varispeed can best be described in three words: "teamwork, quality and support".
He believes that what differentiates us from our competitors is our focus on excellent technical support and says that the mining and agricultural industries are poised for growth in the upcoming months.
His favourite product under the Varispeed stable is the Yaskawa A1000.
A lesson that Gerhard has learned during lockdown is to appreciate nature and a good bill of health.
When asked for his words to live by, Gerhard says: "Good things come to those who wait."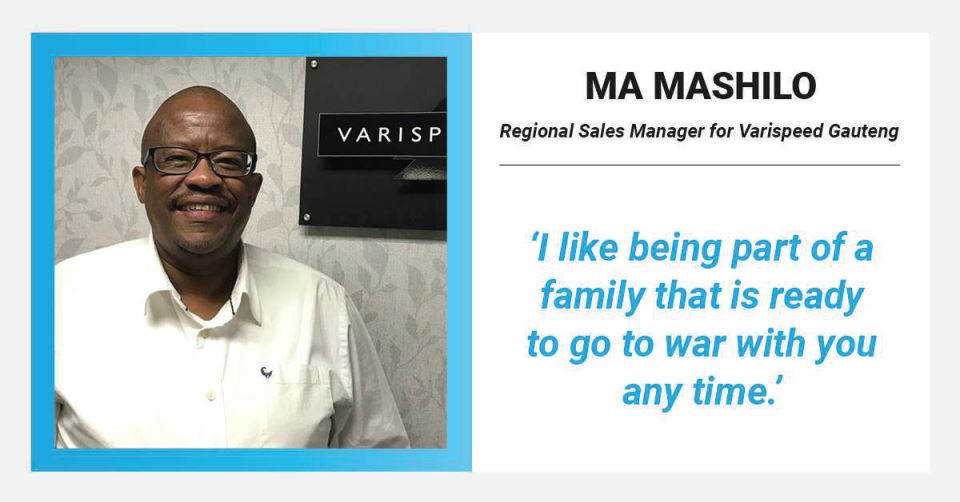 Mashilo recently re-joined our team and we are so pleased to have him back. His vital contributions have already proved invaluable and under his leadership, we believe that our team will soar.
He describes Varispeed as "flexible, dynamic and innovative".
Mashilo believes that what separates Varispeed is its highly reliable products and superior service.
His favourite product is the GA700 Industrial Applications Drive from Yaskawa.
"Being part of a family that is ready to go to war with you any time" is what motivates Mashilo each day.
In terms of a lesson learned during the lockdown, Mashilo says that having good customer relations in both the good and the bad times is key. "It's also important to be surrounded by people with positive energy".
His words to live by are 'if the mind is weak then the body will suffer.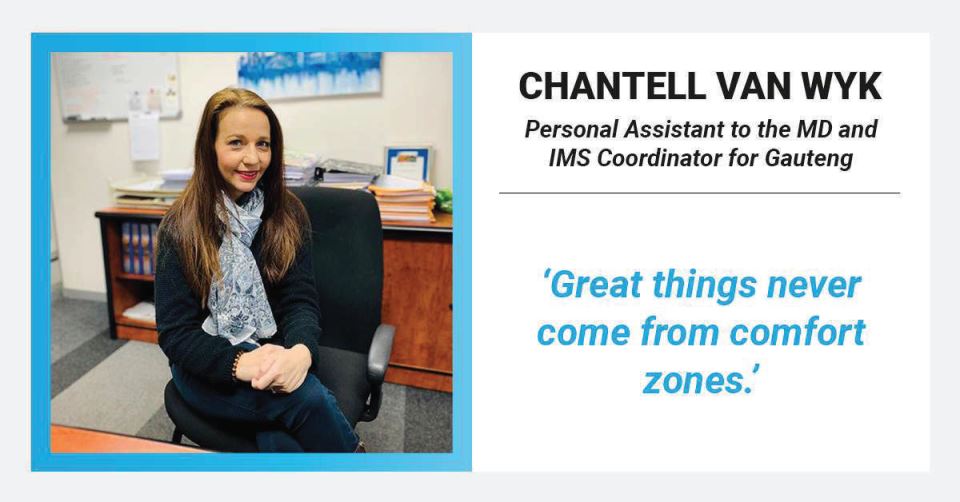 With over a decade under her belt at Varispeed, it is safe to say that Chantell forms an integral part of our team.
She believes that Varispeed can best be described as "supportive, innovative and reliable" and says that the team is progressive and is always looking for new and innovative ways to support our customers.
When asked what her favourite product is within the Varispeed stable, Chantell says it has to be the micro but mighty GA500 AC Microdrive.
Chantell says that a valuable lesson that she has learned during lockdown is that no matter what, Varispeed has our backs. "They have gone above and beyond to protect jobs and to keep our stakeholders safe during lockdown".
Chantell is motivated by her family and her words to live by are: "Expect nothing, appreciate everything and great things never come from comfort zones."

Yaskawa A1000
The Yaskawa A1000 is a robust drive, suitable for the mining industry.
Built to last, it offers everything that you need in a single drive and is backed by world-class support.
The A1000 is custom built and installed according to your IP specifications.
It's also backed by a 5-year warranty.
Enjoy network communications, feedback, and expandable I/O to control anything from simple fans and pumps to complex machines.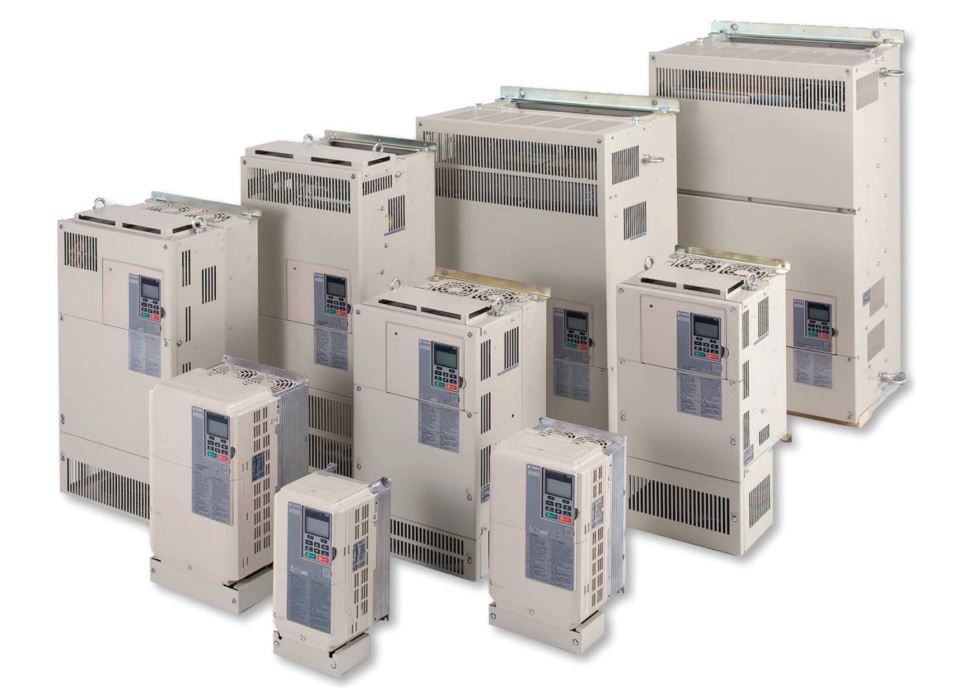 Varispeed recently partnered with a prominent local cable manufacturer to upgrade an existing, outdated control system.
With a rich history spanning 72 years and a staff compliment of 1500 people, this industry leader has a well-established footprint both locally and in Maputo.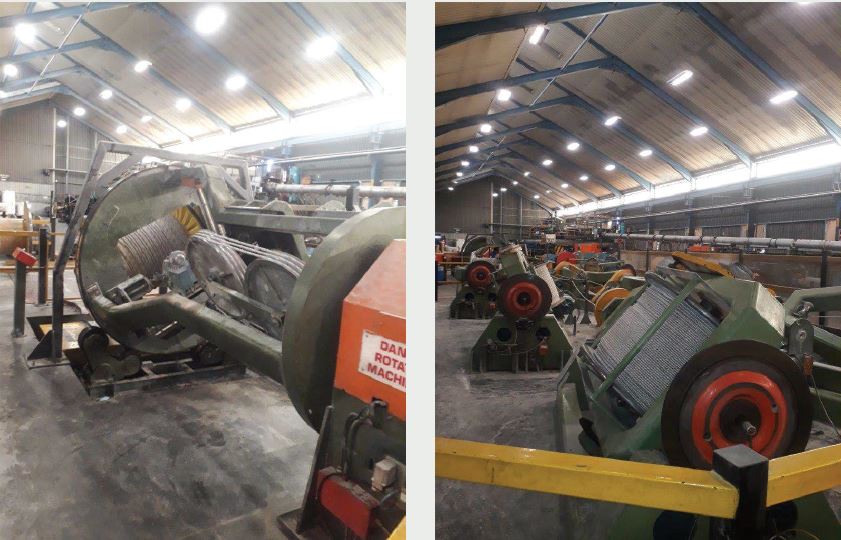 "This particular customer had been looking to upgrade their control system on a machine for quite some time. The previous system was a mixture between a hard-wire relay logic and a PLC control," says Jason van der Merwe, Branch Manager at Varispeed's KwaZulu Natal branch. "It was out of date with limited diagnostic capabilities and did not offer a full rational synchronisation during slowing or stopping".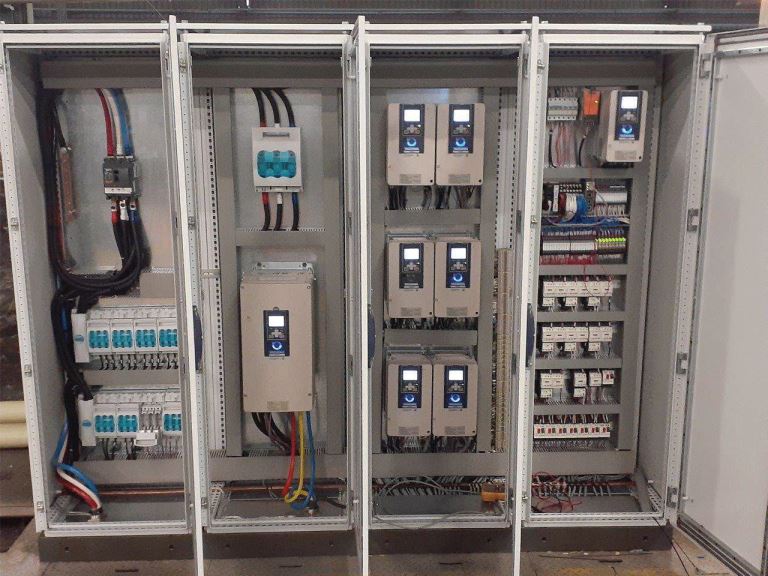 In terms of the application, Jason says that this system was used on a lay-up machine consisting of six rotating payoffs and a rotating carriage. From the PLC and HMI to the Yaskawa GA700 drive programming, electrical drawings, and panel wiring, Varispeed handled the entire scope of this project in-house.
Contact Varispeed to find out more: info@varispeed.co.za